Open throughout the year, the catering amenities of the shrine of Montligeon accommodate pilgrims for meals on a daily basis, and cater for all pilgrims, whether on a day-visit or for longer sojourns. The home-made single-menu cuisine served at the shrine is cooked from local produce.
Booking
All meals have to be booked in advance. Before 10 am on the day (or, better still, on the eve) of your arrival.
Meal schedules*
Breakfast (self-service) from 08:00 till 09:30
Luncheon is served at 12:30
Dinner is served at 19:30
*Compliance with exact catering schedules is expected at all times, out of respect for staff.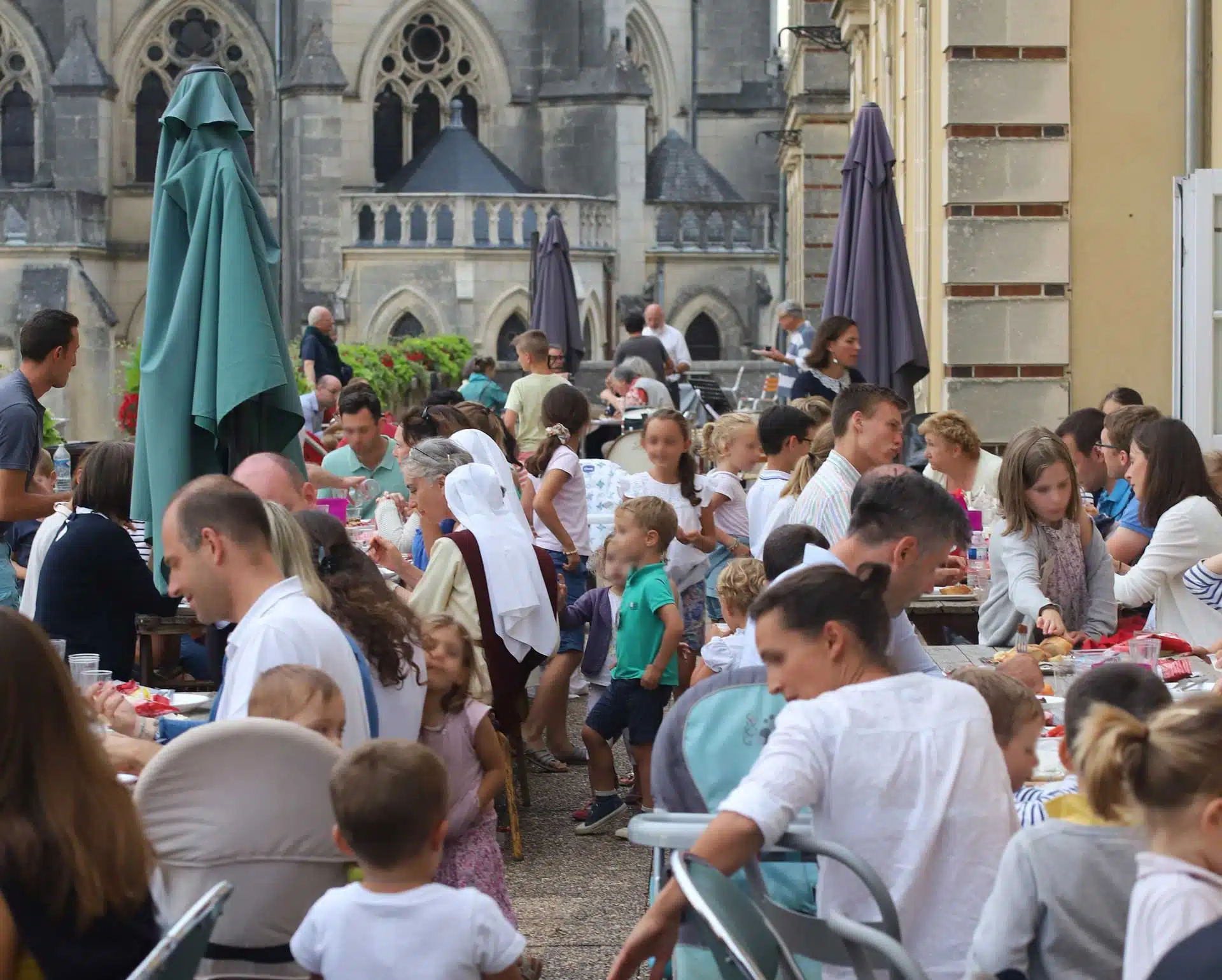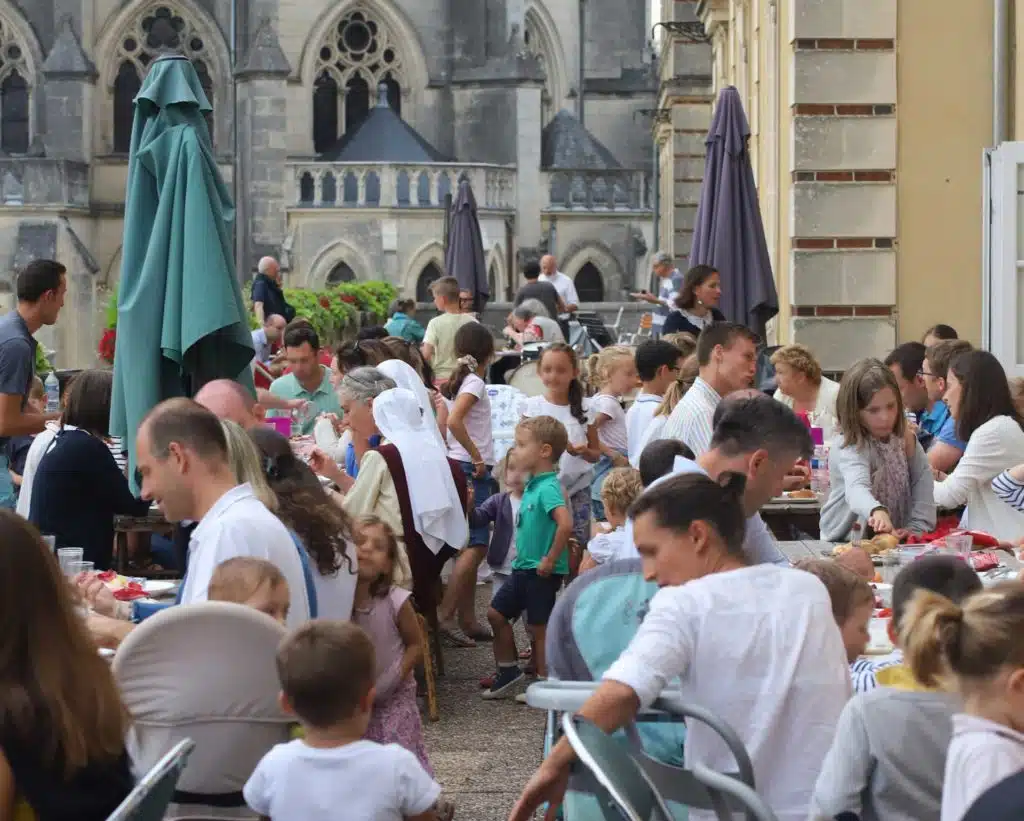 Special diets
Special diets cannot be accommodated, excepting saltless or fatless.
Since allergy diets are potentially dangerous if misapplied, we cannot provide for them. If your allergy is severe, please bring your own meals. We will take it into account at the end of your stay with regards to your sojourn financial participation.
A family-type of cuisine
From morning till evening, our catering service receives all pilgrims, whether on a day-visit, or on a longer stay. Food is cooked and served on the premises by our catering personnel.
Local products
So as to support a regional-type of cuisine, the greater part of our food supplies are produced locally. High quality and tasty fresh produce!
La Charentonne Breeders
Local and responsible breeders, for whom animal welfare is essential, they provide poultry and pork, beef and lamb which will serve as the basis for our preparations.
Maison Ferré
Reknown maker of apple-based drinks: cider, apple juice etc., this family-run firm of apple and pear growers established in a traditional farmhouse is also our local supplier.
L'Etoile Farmhouse
Close to the shrine, this family farm business of breeders and producers, provides cold cuts and dairy products so delicious!
The village bakers
All our bread (and French sticks!) come from a traditional French bakery
Seasonal menus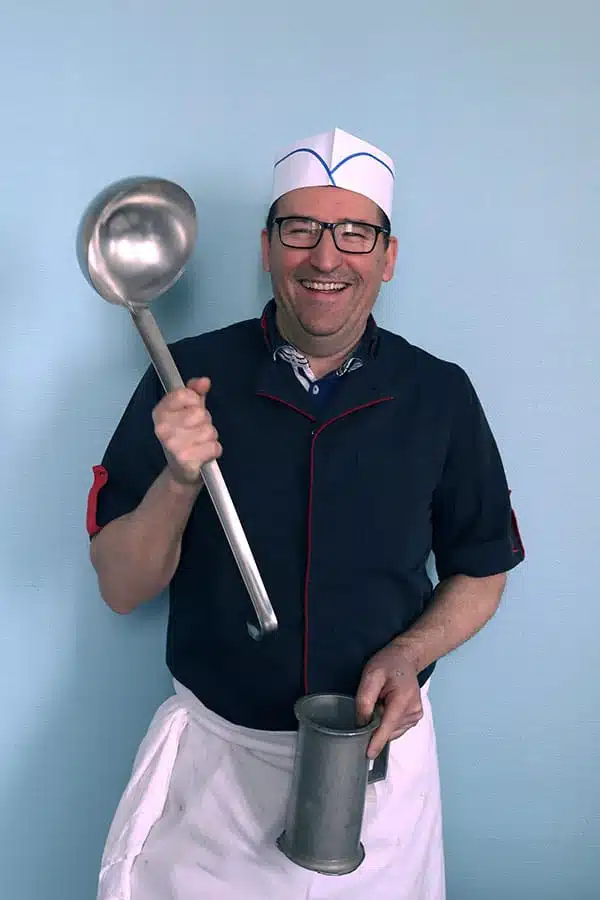 To warm you up in Winter times, locally grown leeks, potatoes and carrots will be the highly featured in our homemade soups. Just wait for Spring and Summer and enjoy fresh melons, cucumbers and tomatoes.
Menus adapted to season!
6 dining-rooms sitting from 50 to 170 people
Overlooking the surrounding countryside, our Reno, Valdieu and Saint Hubert dining rooms open up onto the vast terrace and offer a gorgeous view of the basilica and the rural surroundings.
In addition, two dining-rooms under verandas locate at the rear of the Hermitage (main) building; it also provides the Lecoq dining space to help accommodate pilgrims on specially busy days.