What kind of groups come and stay at the shrine of Montligeon? How does one organize a stay for one's group? What are our conditions? What kind of activities are on avail?
The shrine of Our Lady of Montligeon hosts constituted groups on a spiritual retreat. Set in bucolic environment, it affords most comfortable facilities and agreeable hospitality; moreover, it proposes to uncover in a special way the beautiful Christian message of hope in eternal life.
What kind of groups come and stay at the shrine of Montligeon?
Whether parochial, diocesan or associative pilgrimages (altar servers, or young people preparing their first communion, confirmation, single-parents, family or religious groups, etc.) groups vary both in types and sizes as well as their stay: on a collective spiritual day-outing, or several days for a recollection or a special retreat.
This list is by no means restrictive, so do not hesitate and enquire with us prior to securing your group stay.
Secure your group booking (or for information for your group:
Organizing your group's visit to the shrine:
You can email us at [email protected]
We will help you organize your group's stay at the shrine: accommodation, meals, financial participation and spiritual activities, as well as meeting rooms and for your prayers or celebrations.
What about staying at the shrine of Montligeon ?
The shrine of Montligeon is a spiritual center, hosting christian pilgrims; thus, neither a mere hotel nor a comprehensive touristic structure! By choosing to visit us, you agree to taking a spiritual break in a simple yet contemplative environment. Whether coming on a day-visit or for a longer time span, you are invited to join in the daily prayer assemblies, and become further acquainted with the shrine message on eternal life. Consequently we expect groups to include in their schedule at least one activity aimed at understanding better what the shrine of Montligeon is all about (cf "your programme" here under).
Parishes
---
Chaplaincies
---
Dioceses
---
Associations
---
Families
---
Students
---
Young professionals
---
Schools
Facilities on avail for groups
20 meeting rooms
In addition to an overall sleeping capacity of 300 beds, the shrine offers an array of twenty meeting or conference rooms, sitting from 20 to 300, with various adapted equipment to support groups at best for seminars, retreats, and sessions.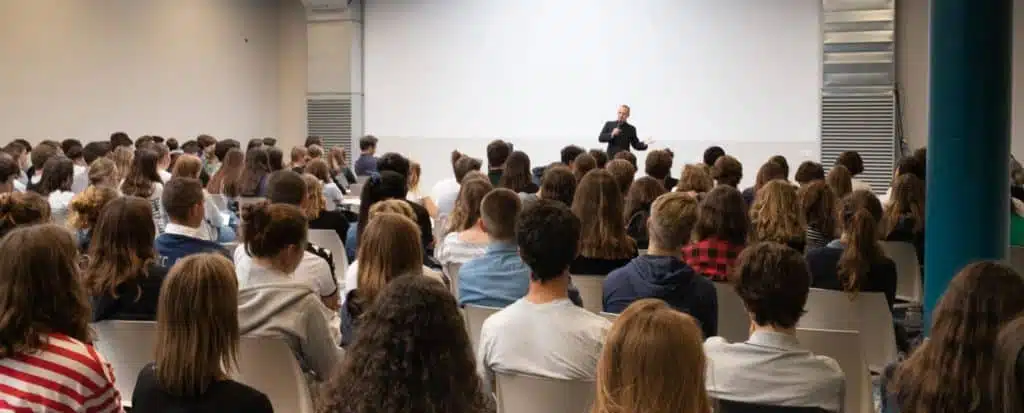 Sleeping capacity: 300
---
Catering capacity: 500
---
Meeting rooms: 20
4 dining rooms can accommodate up to 250 at once
Suggested offerings to help cover the hospitality expenses

Setting-up your tailor-made stay
We are at your disposal to help you organize your tailor-made stay
Whether your group comes for a day visit or longer, the shrine proposes the sacraments, tuition and talks, counselling, guided tours of the basilica, accommodation and catering facilities, meeting and conference rooms (sitting from 20 to 300), etc. Do not hesitate to contact us for further information.
Book your group in by emailing us
or call at the reception desk:
A la carte spiritual activities
According to your group's requirements and needs, please find hereunder the detail of activities on avail at the shrine during which either one of the priests, the Sisters, the volunteers or a seminarian, will be at your disposal.
Activities
Detail
Duration
Presentation of the shrine
–
Visit of the basilica
Discover the historic backgrounds and specific message and ministry.
0 h 45
Talks or tuition
Eschatology: death and life after death, eternal life, Resurrection, Communion of Saints, Christian hope, purgatory, etc.
Faith basics: the Eucharist (what Mass is about).
A Christian approach on work: vocation de l'homme, son destin… meaning of work, fulfillment at work, etc.
1 h 00
Lectio Divina
Introduction to the meditative reading of the word of God
0 h 45
Witnessing to vocation
By a priest, a nun or a seminarian
0 h 30
Videos
Terre de l'Espérance (2015)
The shrine's presentation by France Bishops Conference
Éternité (2020)
0 h 30
0 h 40
1 h 30
The Way of the Resurrection

Outdoor meditation course: 6 stations to meditate on the Resurrection of Christ (leaflets available at the reception desk or for downloading here)

0 h 45

The way of consolation
For people faced with the loss of the child who did not get to live. The outdoor course ends in the basilica, at the chapel of Our lady of the deceased little ones (leaflets available at the reception desk or for downloading here)
Prayer vigil 20:30-22:00 (except on fridays & Sundays)
Adoration, confessions, prayers for the deceased, etc., facilitated by the Sisters, according to their availability.
1 h 30
Discovery game
Uncover the basilica and Christian hope (leaflet available at the reception desk).
0 h 30
Other activities :
hikes and walks
The reception desk can further provide clues to various strolling possibilities in the vicinity.