Amounting to1272, spread across 32 countries, Montligeon Prayer Groups (MGPs) are like extensions of the shrine. Tangible signs of the spiritual Fraternity of Our Lady of Montligeon, they are called to become true schools of hope. Find out where MGPs locate worldwide, maybe you'll discover one close by. If not, we can help you start one.


Check the map and your nearest Montligeon Prayer Group
Using the + or – buttons at the bottom left hand-side of the map, zoom on any part and find out more.
Or click on the following button to get a full screen view of the map
Find a group
Check on the MPG worldwide :
3 essentials: prayer, training, charitable endeavours
Prayer
Prayer groups affiliated to Our Lady of Montligeon Fraternity meet on a regular basis, – either weekly or monthly – and pray for souls in union with the shrine's mission. Praying the Rosary of Our Lady of Montligeon is at the core of their meetings. At their disposal, special meditations provided by the Montligeon shrine.
Training
Members of associated MGPs are invited to develop their faith knowledge, especially with regards to eternal life. Purposely organized training sessions are on offer at the shrine, or by means of the shrine chaplains' "Montligeon Missions" organized at national or international level.
Charitable endeavours
Members of the Montligeon Prayer Groups are often engaged in additional substantial charitable undertakings, such as joining in their parish funeral teams, or volunteering at their local hospital, home for the elderly, etc.
What role do the Montligeon prayer Groups play?
Rev. Fr. Don Martin Viviès answers Guillaume Desanges for RCF Calvados-Manche
In communion with the shrine, MPGs pray the Rosary for the deceased.
Praying for my deceased beloved
France-Aimée, in charge of a MPG, explains
Discover a few Montligeon Prayer Groups (1272 worldwide)
MPGs in Africa
Visit to the Fraternity of Montligeon in the Democratic republic of Congo
(Feb.24 – March 8, 2022)
Visits to Msgr Fridolin Cardinal Ambongo, Archbishop of Kinshasa
"We exchanged about the Fraternity of Montligeon and on its ministry of prayer for the deceased", explained Fr. Paul Denizot, "in addition to its message of Christian hope and of service to Kinshasa, in Congo as well as worldwide. His Excellency encouraged us with benevolence to have the Montligeon Work be known throughout his diocese."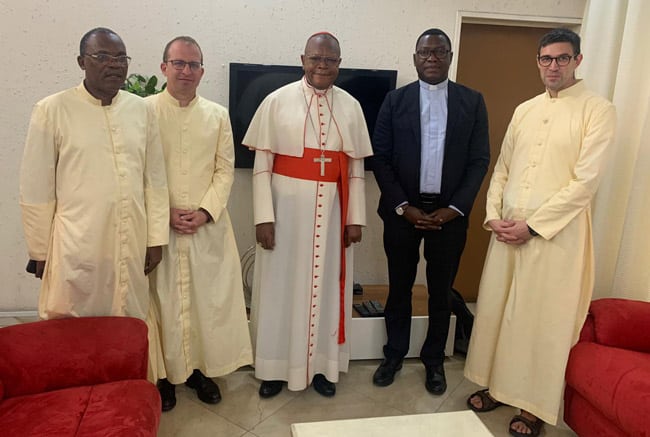 Meet Fr. Jean-Paul Kele
Fr. Jean-Paul Kele (Montligeon Fraternity Chaplain for Kinshasa) interviewed by Fr. Paul Denizot.
Sabin Misakabu's & Raphael Kongolo's reporting on "Montligeon delegation" visit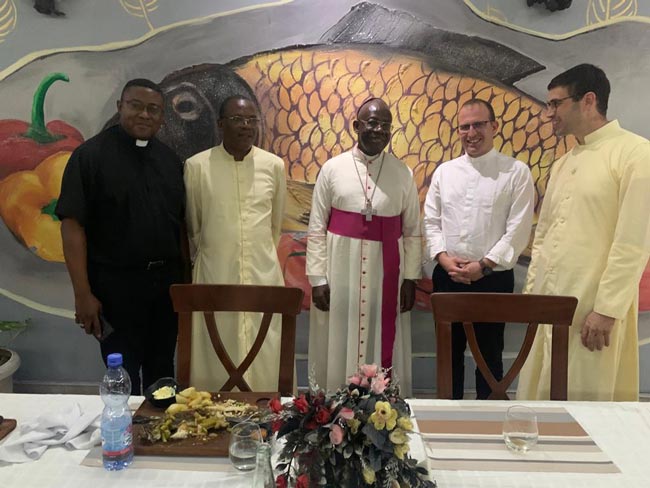 With Msgr. Bernard Emmanuel Kasanda, Bishop of Mbuji May
The spiritual Fraternity of Our Lady of Montligeon Prayer Group in Brazil
Facilitators: Renata BRAGA
and Fr. Edenilson PINTO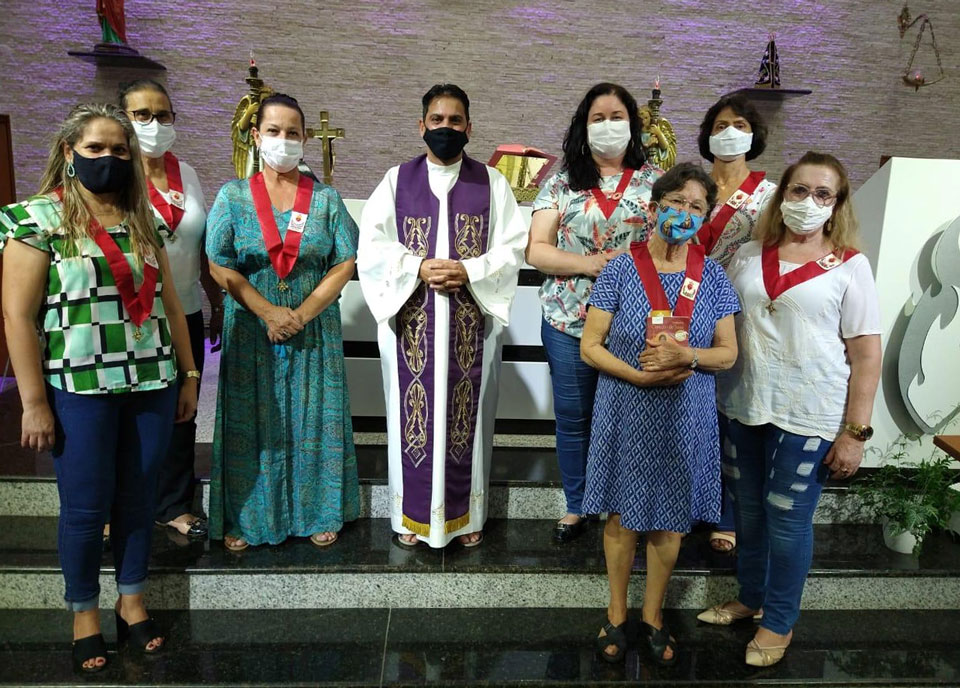 Presentation of Rev. Father Pinto
In 2019, the Montligeon Prayer Group was initiated at the parish of Santa Lucia, in Promissao, to pray the Rosary for the dead. Facilitated by Fr. Edenilson PINTO and Ms. Renata BRAGA, it meets every 2nd Wednesday of the month at 18:30, it is followed by Holy Mass at 19:30.
MPG in Guatemala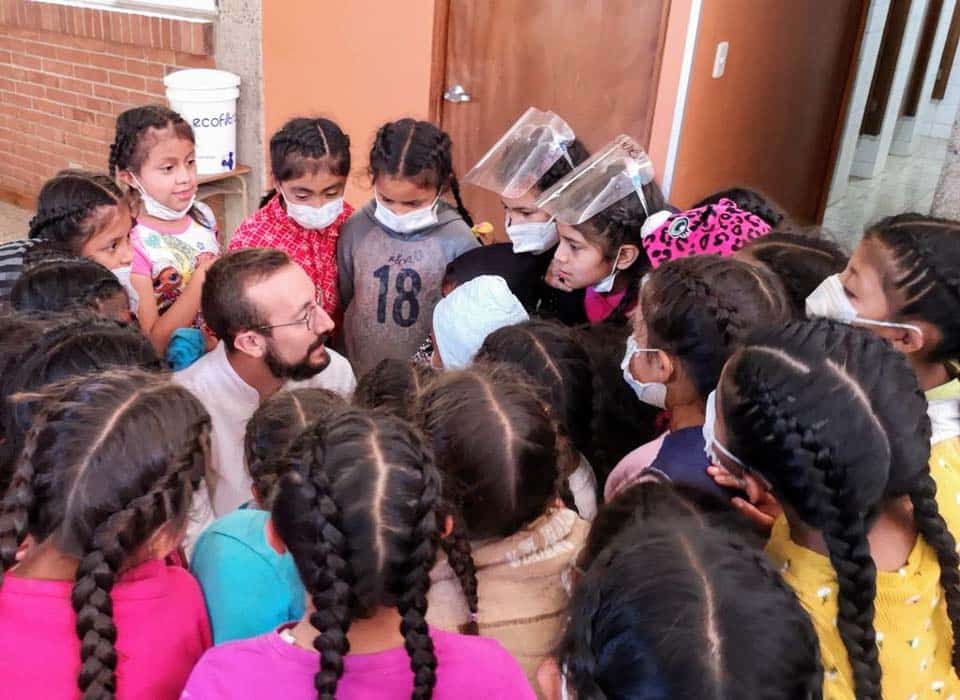 Fr. don Louis de Berny visiting the new Montligeon prayer Groups in Guatemala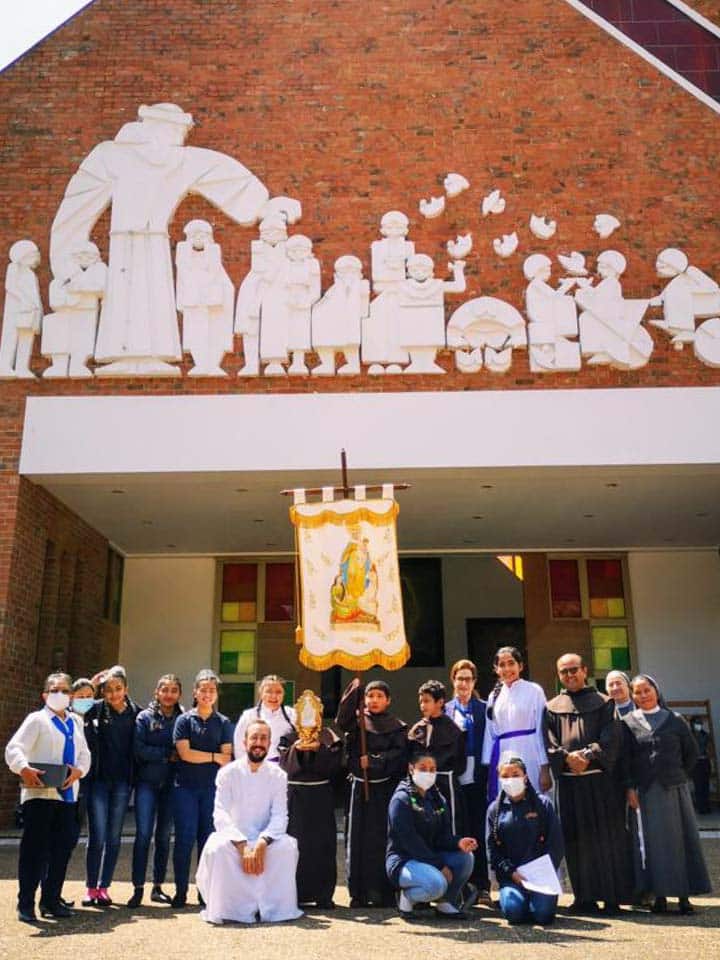 Pan de Azucar: the new Montligeon Prayer Group in Uruguay.
The MPG meets on Sundays , 09:00 am, at Our Lady of Sorrows Church, and is facilitated by Fr. Jose Luis PONTE, the parish priest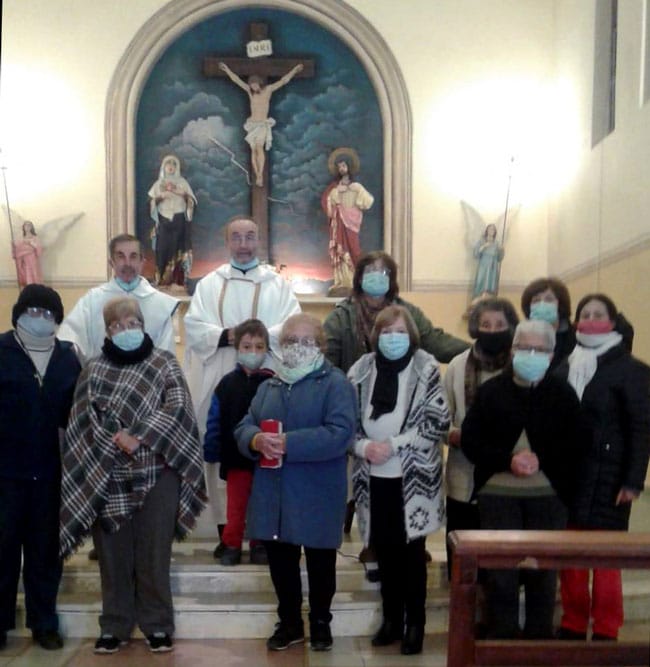 The MPG in St. Joseph, Reunion Island: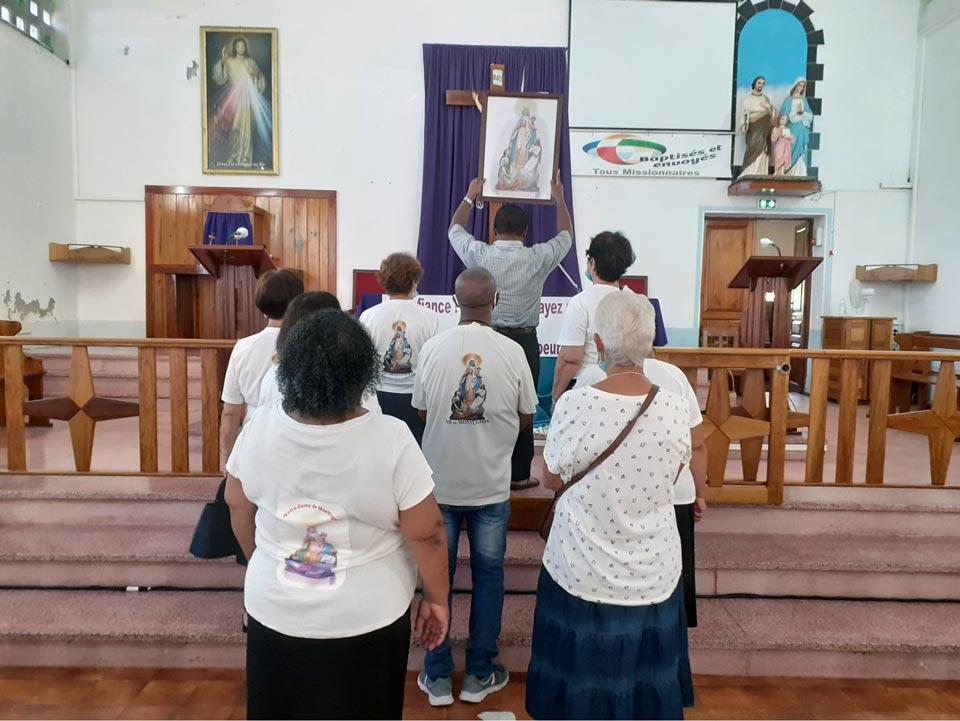 The latest Montligeon Prayer Group in France
Facilitated by Ms. Marie Geneviève LE GAL

This group has been meeting since 2017 in Butor district, on the premises of the Holy Family parish church. Facilitated by Ms. Marie Armande GRONDIN, it comes together every fourth Thursday of the month, at 4 pm, and is followed at 5 pm by the celebration of Mass for the Holy Souls.
It meets every last Thursday of the month, at 17:45, prior to the Holy Mass at 18:30 at St. Teresa's Church in TREMBLAYE EN FRANCE (93290)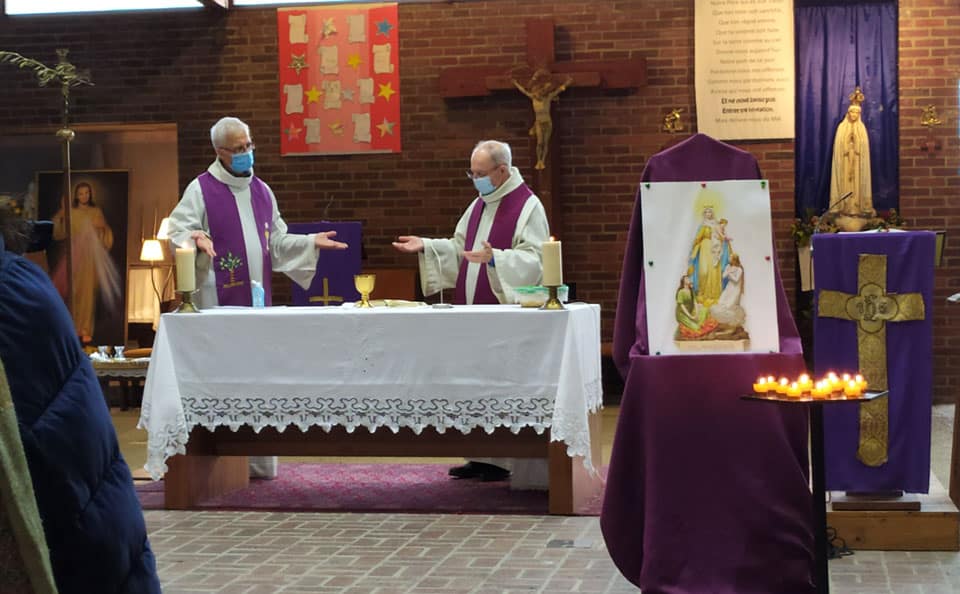 MPG group in Le Puy-en-Velay, France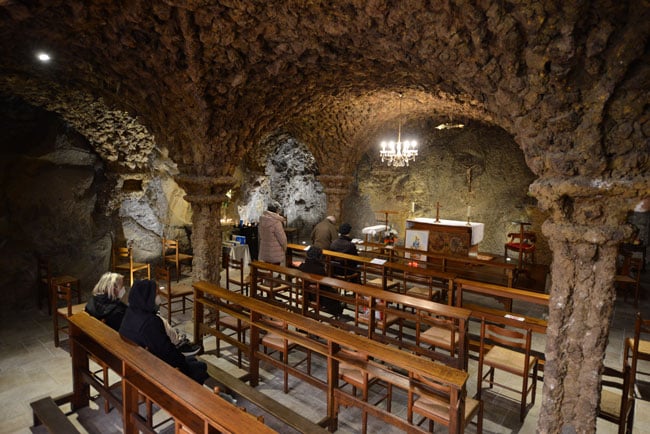 On the third Friday of the month, this MPG meets at 3 pm to pray for the souls in purgatory ever since 2016; their meeting takes place in the crypt of the splendid shrine of St Joseph's in famous Puy-en-Velay, France.
United but not uniformed
Locally embedded
Based on these essential common grounds, MGPs develop as they wish according to their cultural and social environment, responding to the needs and expectations of their fellow citizens. They always seek to take into account the different kinds of people composing the prayer group and thus, adapting accordingly, to include – and be grasped by – all present (youngsters, the elderly, the handicapped, etc).
MPGs get established within a parish public hall. They might as well meet in hospitals, homes for the elderly, and even in schools. However, it is compulsory to get appropriate official consent, that of the parish priest, and of civil authorities in charge when using public structures, not forgetting to let the shrine know.
Valued multiplicity!
The Fraternity of Our Lady of Montligeon is an international prayer soladity. Its numerous prayer groups are most varied in size and kind. For example, some choose to specifically pray for the souls of deceased prisoners and for people who have committed suicide, others lead a weekly Rosary prayer for departed souls, on a local Catholic radio network, etc.
To initiate a Montligeon Prayer Group
Find out more about initiating a MPG for the relief of souls. We'll be glad to help and support you with it. Do not hesitate to contact Nathalie!
Contact person:
Nathalie BLONDEAU
Make your pledge to pray for souls
Come to the November Heaven's Pilgrimages in Montligeon and share in the intense experience praying for the deceased… In addition, if you wish, you could join the Oath Ceremony for people who pledge to pray for the deliverance of souls in Purgatory. Enquire further at [email protected]